Altitude sickness is also known as mountain sickness, and it can be defined as a group of common symptoms which are caused by walking or climbing very fast to an altitude or elevation that is higher. It happens when the body is exposed to a higher altitude (elevation) in a very short time. The truth about high altitude is that; the higher one climbs, the lower the air-pressure and also the oxygen levels decrease. So if you do not give the body enough time to adjust to the decrease in oxygen levels especially when on your Mount Kilimanjaro Climb, you are very likely to suffer from Altitude Sickness.
In this article Kilimanjaro Trails offers you the Best 7 Tips to follow so as to prevent Altitude Sickness as you climb Mount Kilimanjaro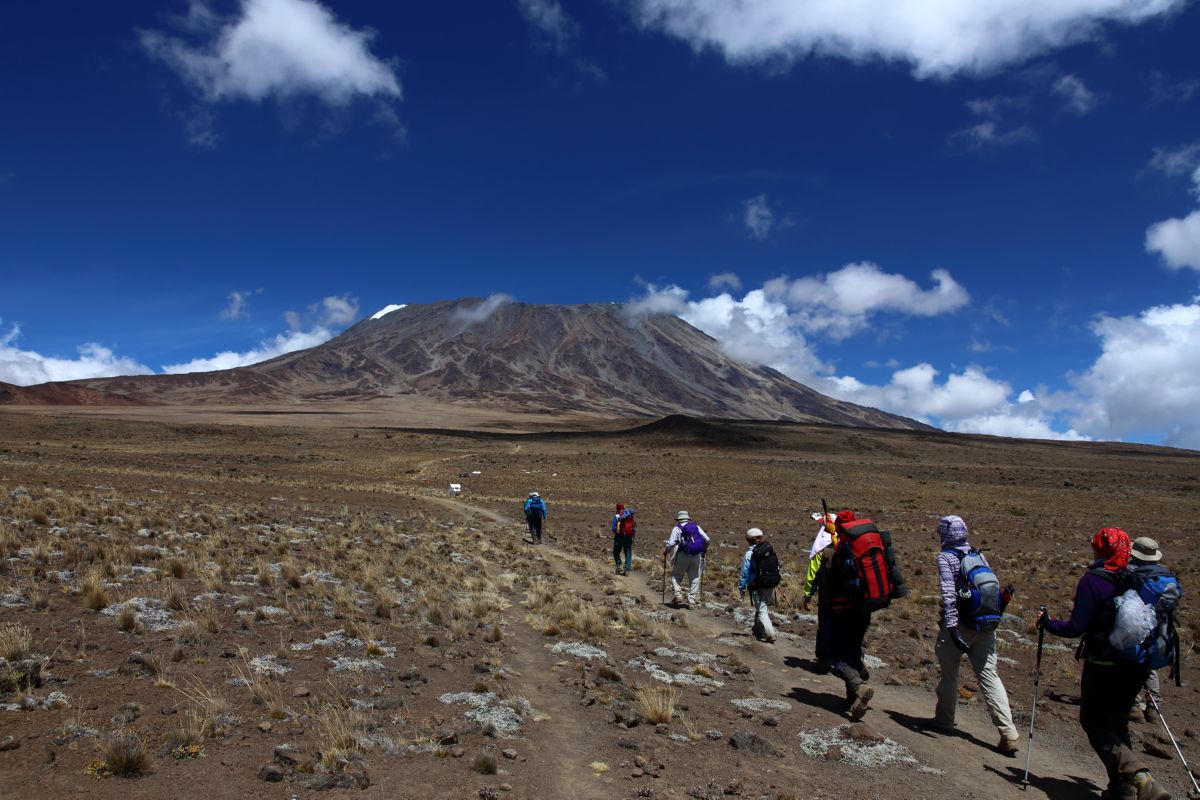 Climb Slowly
During you climb to the summit of the Kilimanjaro Mount, you need to give your body two (2) or three (3) days as you move to higher altitude so that it can well adjust to the new changes. We greatly advise against driving or flying to higher altitude; but rather recommend that you walk higher every day, have a rest, and then proceed higher the following day. In case you must drive or fly to a higher altitude, ensure that you get a place to stay at a lower altitude, and best if you spend twenty four (24) hours there before moving to a higher altitude.
Now as you ascend the mountain on foot, we advise that as you attain higher altitude, you should spend the nights at a fairly lower accommodation. Kilimanjaro Trails together with most hiking experts advise that you should not ascend more than 1,000 feet a day, and also for every 3,000 feet ascended, you should have a resting day in between.
Take plenty of Water
It is very important during Mount Kilimanjaro Trek that you keep your body well hydrated as this is very key in avoiding Altitude Sickness. Always have a bottle of water in your day pack so that you can drink water regularly as you climb
Eat a lot of Carbohydrates
Well, it is on very rare occasions that we are told to consume extra carbohydrates; and this is one of them. Once you are on a higher altitude, your body requires extra calories. Therefore make sure that you park several healthy as well as whole grain products
Avoid Cigarettes, Alcohol and Sedative
Cigarettes, Alcohol and medications such as sleeping pills should be avoided as they may worsen the symptoms and signs of Altitude Sickness. In case you wish to take a drink, please patiently wait at least forty eight (48) hours to allow your body time to adjust to the changes in altitude.
Take the Climb Easy
As you climb up to the mountain summit, we highly recommend that you move at a slow comfortable pace. Don't engage in strenuous exercises or go too fast. Please remember that you are not racing but rather seeking to reach the summit, because it will make no sense for you to start climbing at a very fast pace and along the way be affected by Altitude Sickness and be unable to get to the summit.
Sleep at a Lower Altitude
It is very important that you sleep on lower altitude as Altitude Sickness normally worsens in the night when you are asleep. If you have ascended to an altitude of over 1000 feet during the day, we highly recommend that you later return and spend the night at a lower elevation (altitude).
How to deal with Medication
Normally, there isn't any medication given prior to your climb unless for those those driving or flying to high altitude. According to evidence, it has come to light that taking Diamox (previously known as acetazolamide) two (2) days prior to Mountain Climb as well as during the trek will assist avoid Altitude Sickness.
Typically Acetazolamide is used in the treatment of glaucoma, however due to the way it works, it's also given for the prevention of Altitude Sickness. However, we emphasize, avoid self-medication and visit your doctor for proper prescription.
Taking Acetazolamide is no guarantee that you will not be affected by Altitude sickness. And once the symptoms begin, this medication will not reduce them in anyway; but rather get to lower altitude as this will greatly help.
For more information about Altitude Sickness, check about our article on Altitude Sickness, Causes and Symptoms.