We are usually asked by our climbers 'how fit does one needs to be in order to hike Mount Kilimanjaro?'.Well, although a great level of fitness can make the climb much easier, you do not have to be extremely fit. Usually we take hikers who are way past their fifties (50's) and are not in perfect physical shape. Actually this is a perfect way to lose weight if you weigh more than you are supposed to. With that in mind, you will enjoy yourself much more with a proper Mount Kilimanjaro training plan that will have you very well prepared for the great hike no matter your level of fitness.
Something common about all climbers who have successfully reached the peak of the Kilimanjaro is their high level of determination. We won't fail to mention that getting to the peak of Mount Kilimanjaro is a slow challenge but as long as you have the willpower to take just one more extra step even if you are worn out, then with our help, we can surely get you to the summit.
You will easily succeed climbing Mount Kilimanjaro if your fitness level can allow you to easily walk for approximately 6 to 7 hours with a rise of 1000mtrs. In the same way, you cannot fail to get to the peak of Mount Kilimanjaro if you can jog at good pace for about forty five (45) minutes, cycle for an hour or even attend an energetic aerobics class.
Truth is on a daily basis you will have to walk for about 6 to 7 hours with a bumpy climb of 1000 meters.
Practice Hiking/ Climbing
Just get your walking shoes on and walk a couple of miles on a regular basis that is the required training to hike Mount Kilimanjaro successfully. Even if it is 2 to 3 hours or walking a whole day on hilly places, all you require is to get many hours on your feet daily and this climb is more like walking daily for a whole week though hikers find it super exhausting. The best solution to this is getting used to walking for many hours.
If you climb regularly it will help you understand the pressure your joints will get and how best to relieve it. This also will help you fit comfortably in your walking shoes because it does take time and can at times be rough. For starters, walk a distance that you can manage, then slowly upgrade to a trek of about 5 to 6 hours. You will be physically fit to climb Mount Kilimanjaro if you do this a couple of times.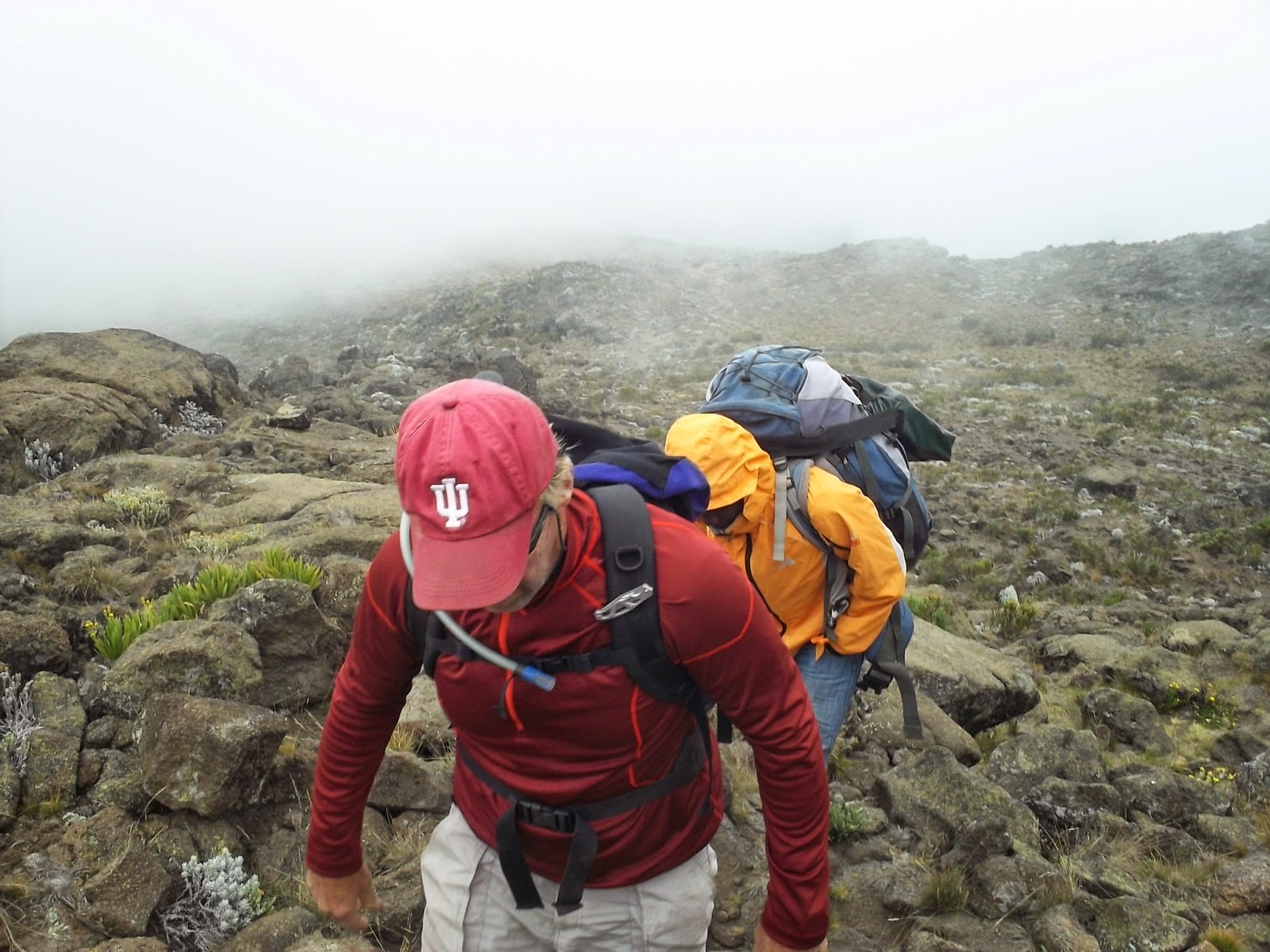 Aerobic Training
In climbing Mount Kilimanjaro, cardio or aerobics training is a very key factor. So when it comes to Aerobic metabolism exercise, you are literally training your body to use oxygen sufficiently to meet all your energy demands while exercising.
Building your cardiovascular system is very key and can be done with aerobics training which enables you to get and use limited oxygen in a much better way. This is very crucial for the Mount Kilimanjaro climb because it is a very long distance walk on high elevation and the body gets less oxygen per breath taken.
Contrasting anaerobic exercise, aerobics training needs oxygen for longer time periods. Some of the good examples of aerobic training include; cycling, track swimming, long distance walks and jogging.
We usually tell our climbers that it is very important not to rush up the mountain. One very big mistake is attempting to climb very fast. You will usually hear our care takers saying, "Pole Pole" a Swahili phase which means 'slowly slowly'. Despite your level of fitness, your body needs time to adjust to the altitude. Never the less, having a very good blood circulatory system will help with this though it will not stop it. Climbing Mount Kilimanjaro is not a short fast race, look at it as a 'long' marathon. There for we usually recommend having the slowest climber at the front of the hiking team.
Usually we recommend a 3 to 6 months Mount Kilimanjaro training program depending on your fitness. We farther more recommend running 6 to 12 kilometers thrice a week but don't forget that your climbing practice is very important. Remember to set a slight slope if you are using your treadmill.
Legs and Hands Strengthening Exercises
Strength training should also be included in your entire Mount Kilimanjaro training plan. On a daily basis you will be on your legs for at least 7 hours so you obviously need them strong to take on the heavy load. Even if it is not as crucial as aerobics training, strengthening precisely your legs, core and upper body will greatly multiply your chances of a successful hike.
We advise doing these exercises in order to strengthen your legs;
Swings
Squats
Phase aerobic
Front and behind leg twists
Please Note: Exercises done with poor skill will usually bring harm to you instead of helping you so remember when exercising to keep watch of your technique.
You will be carrying gear for hours and standing so building core and upper body strength is very key.                                                                                                                                                                                  We also recommend these exercises for upper body strengthening;
Shoulder presses
Back and shoulder flyes
Sit-ups
Kettle-bell rows / swings
You wouldn't want to trek for about 7 hours when you wake up with stiff joint paining all over so remember to stretch after all exercising sessions. Increasing flexibility can also enable your body to recover much faster overnight after walking the whole day.
Benefits of Stretching
Majority of sports injuries happen because of bad stretching.  This is mainly true on mountains because of the same movements over rough ground putting so much pressure on the muscles and joints. We recommend getting used to a daily stretching regime to help with loosening of the muscles and increase flexibility. Every morning one should stretch their main muscle groups for about 10 minutes.
Put on your walking boots, go out there and start walking, so you can get your date with fate booked.
Mental Stamina
Your attitude and mental stability are just as required as physical stability. Having a good attitude and the urge to keep pushing through is a very important and useful technique. There will always come a time more often during the peak night when you will feel like giving up and just go back down the mountain. There are ways of training your mental stability though it is not easy achieving it. To archive your goal, you will have to build an activity that has to push your body to what it thinks is the limit and then you must push past that limit.
One good way of getting this is long distance running like full and half marathons regularly. Seeing the finish line in a marathon is a big goal which pushes you to the limit. Doing this with a personal trainer or friend, partner is way better as you both will encourage each other to accomplish more. All it takes is that last push when you feel like giving up that will enable you to get in to the right state of mind you need to summit Mount Kilimanjaro.
Use the hiking knowledge in your training- Usually we encourage you to train 4 to 5 times weekly with some good weight in the back pack while also doing the interval training. You will hike 14 hours on the peak attempt and usually about 6 hours daily moving on tough ground up and down hills so it is very important to be as ready as you can. If you are organized, it will be easy to manage the long distances you are trekking and be in great shape for the climb.
In conclusion
If you have your circulatory system up and functioning, then what you require is a good attitude and the urge to push yourself to the limit. Hiking Mount Kilimanjaro is a great experience and with a proper training plan can be achieved by almost everyone despite the physical condition or age.
In addition to that, it is very important to allow your body to adjust to the altitude. Usually most hikers do not make it to the peak because of altitude problems. We commend most people to read this article because it gives much information in getting prepared for altitude adjustment.
As the climb up Mount Kilimanjaro is not a very difficult one but rather a more of a normal hike, focusing mainly on mental stability and breathing is very key. The high elevations and fast descents can be a cause of tragedy if you have not trained properly for it , a thing that will cause you to return back to base for assistance.
The Mount Kilimanjaro physical training routine should have a great mixture of breathing exercise or cardio, stair master, uphill climbs and treadmill inclines. Do these exercises with about 6 kilograms of weight on your shoulders while alternating days of using the treadmill and stair master. Use the machine settings that provide inclines and climbs.