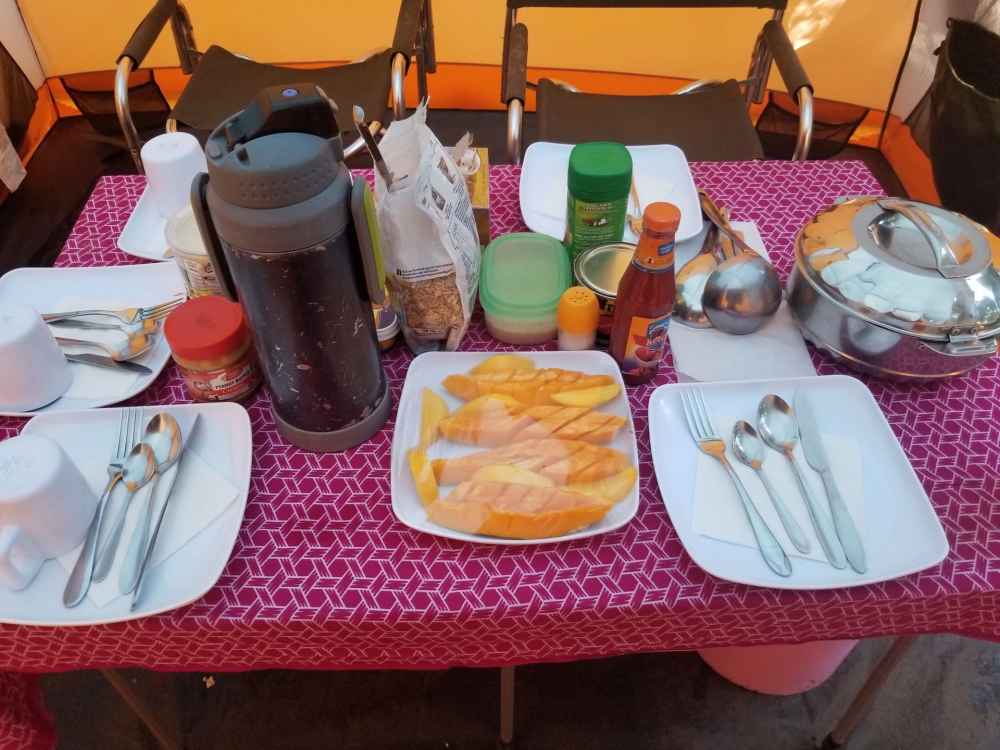 In certain conditions you might not want to drink or eat as much as you should so as we already advised it is very important to stay well hydrated and properly fed.
Since most hikers tend to lose appetite on high altitude, the chief chef has come up with specific menu plans that are pleasing, healthy and filled with all the energy you will need to make it to the peak. You will obviously have vegetables and fresh fruits on a daily basis as part of your meals. You will eat fresh meat for the beginning part of the trek and on the lower routes where need be, we shall resupply at Karanga Camp.
We shall have a an all-day English breakfast ready and waiting your way when you arrive back at base camp as a great reward after your peak ascent, just let our chef know how you prefer your eggs made. You will also get to sample some of the local Tanzanian cuisines such as Machalari as well as Njegere just before you leave the mountain.
If you have specific diet requests or a vegetarian then you should just inform us when you book so that we can ensure a proper planned out menu for you.
A ordinary day's meal plan on Mount Kilimanjaro
Our breakfast is usually very filling as it includes sausages, eggs, porridge as well as toast with jam or jelly. Hot drinks will obviously be served as well in the range of hot chocolate, tea as well as coffee. If you are still hungry or would like to pack some extra bites, please let your care taker know. The chefs usually prepare much more food than required just to make sure everyone is satisfied.
We can either stop for a hot cooked lunch meal or have it packed for you in your back-pack depending on your schedule.  Our usual packed lunch is comprised of a sandwich, a piece of chicken, boiled egg, snack bar, fresh fruits, crisps and a drink.
You will later be served with an afternoon tea once you return to your camp after completing the day's hike. Besides the hot drinks (tea) you will have lost of biscuits, peanuts and popcorn in addition to other snacks to enjoy which will assist in restoring most of your energy you would have burned off during the hike.
Finally, the dinners are extremely satisfying. You will be served with a nice hot soup to begin with, then the main course which may include: spaghetti bolognese, potatoes, or rice or pasta. Chicken curry and fresh vegetables before being offered a delicious dessert like maple syrup on banana fritter or pancakes.