Kilimanjaro Trails brings you the most Frequently Asked Questions about Mount Kilimanjaro Trekking. Our experts through their skills and vast knowledge on the mountain have keenly answered them so as to help anyone interested in climbing Mt. Kili – the highest mountain in Africa also considered as the roof top of Africa. These answered question are very useful irrespective of whether you are an experienced climber, or it's just your first time.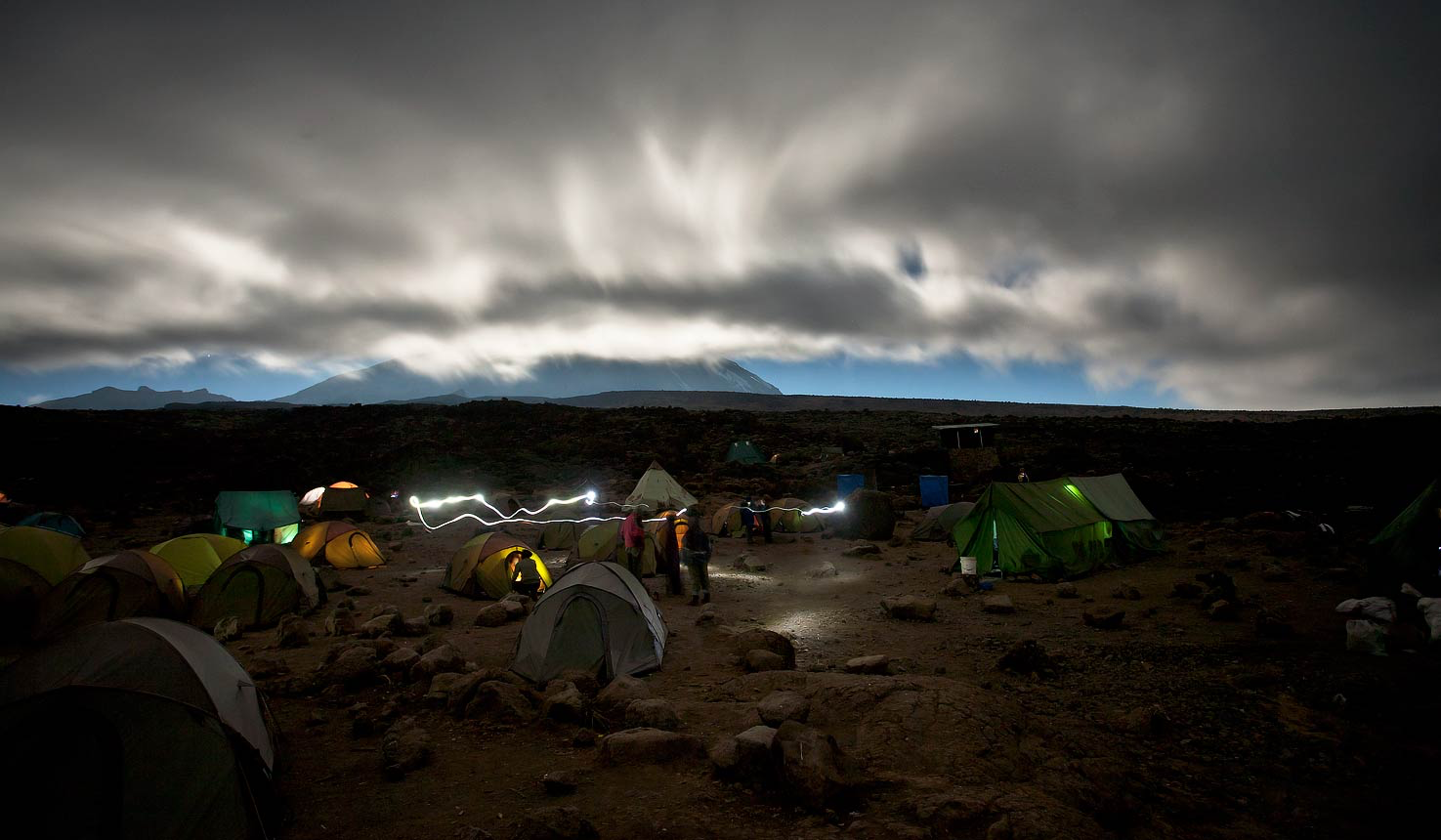 What are the differences between the Kilimanjaro Routes: Marangu, Rongai, Lemosho and Machame?
Accommodation on the Marangu route is offered in huts, and you will ascend and descend the mountain along the same route, while accommodation on the Machame, Rongai and Lemosho routes is offered in camps as opposed huts, the routes take more days to complete (are longer) and more  scenic .
The Rongai route follows the northern side of Mount Kilimanjaro during the ascent, and descends along the Marangu Route; while the Machame and Lemosho Routes follow the Mweka route for the ascent and the descent.
How long (number of days) are the Marangu, Rongai, Lemosho and Machame Routes?
The Marangu Route is considered to be the shortest route on Mount Kilimanjaro, taking just five (5) days. However Kilimanjaro Trails together with other climbing experts recommend that you spend six (6) days on this route to allow extra time for acclimatization.
The Rongai Route on the other hand takes six (6) days to complete the mountain trek whereas the Machame Route offers two (2) options: the six (6) days itinerary hike or the seven (7) days itinerary hike.
The Lemosho Route in contrast, offers additional time to hikers to adjust to the change in altitude, taking a total of eight (8) days to complete thus offering the best acclimatization time.
Do I need to be very fit to attempt Climbing Mount Kilimanjaro?
Yes. In case you attempt climbing this mountain when you have not done the appropriate training, it is very likely that you will not enjoy this climb as much as you would if you had done the proper training. The most appropriate way to train for this mountain is to fasten a back-pack on you and set out hiking as often as possible. That way, you will familiarize your feet and ankles to the constant walking which you will undergo during the Kilimanjaro Trek. Going to the gym is a very good thing as well during your preparation for this mountain hike.
What is the Success Rate on the different Routes (Marangu, Rongai, Lemosho and Machame)?
Below, we bring you the success rate for the different routes according to the last calendar year (from 1st April 2018 to 31st March 2019).
Marangu Route (DTKM) 90%
Rongai Route (DTKR) 96%
Lemosho Route (DTKL) 95%
Machame 8 days itinerary hike (DTM8) 92%
Machame 9 days itinerary hike (DTM9) 95%
Which Accommodation can I use on the mountain?
Accommodation on the Marangu Route is offered in huts; each hut has a common dining area for eating. The huts however do not use electricity, while the toilets are either pit latrine or flush toilets.
Along the Rongai, Lemosho and Machame routes accommodation is offered in camps.  During the trek, the porters always boil hot water which climbers will use to wash their face and hands.
Are trekkers provided with drinking water while on the Mountain?
Normally, you will provide your own water on the first day, however, on the following days, the porters will draw water from the streams, boil it and have treat it to ensure that it is safe drinking water.
Do hikers carry their own luggage during the mountain hike?
No. before the hike you will rent porters to help you carry your luggage up the mountain as you hike. You will only carry a day-pack on your back which will be containing only your personal items that you will need during the day.
What is the maximum weight of luggage can porters carry?
Porters can carry roughly fifteen (15)kg of luggage, then the additional luggage can safely be kept at your hotel.
What is the Qualification of the hiking mountain guides?
The guides who will lead you on your hike up the mountain must have Mountain Guide Licenses. These licenses can only be acquired after they have completed certified courses offered by the Tanzania National Parks.  There is also a Porters' Association from which porters are easily selected. They move with an identification card which permits them to assist you while on the mountain and even carry your luggage.
Is it possible to hire sleeping bags and trekking gear?
Well there are a few items you can hire from your hotel, however, we greatly recommend that you inform your tour operator before your start day. That way they will advise you on how best to get the items you do not have. Nevertheless, there are a number of shops where you can buy some of this items. It is advised that you come with all the items you will need. Below is a rough estimate of how much the different items can be hired or bought in US dollars.
Day pack U$12 Balaclava $6                            Thermal Sleeping bag $40
Gloves $6 Sweater $5                              Plastic bag $4
Sunglasses $8 Long underwear $5                Duffel bag $6
Fleece pants $6 Raincoat $12                           Gaiters $8
Rain pants $12 Warm jacket $12                    2 walking poles $12
Poncho $18 Mountain boots $9
Can one turn back in case the hike becomes very challenging?
Yes. In case you feel you can no longer carry on with the hike simply inform your guide. Or in case anyone suffers from Altitude Sickness, the porters will assist you descend the mountain.
How long, and for how many hours do hikers move each day?
The distance and pace at which you will move during your Mount Kilimanjaro Trek will highly depend on one's physical ability. You will later observe that the higher altitude you will get to, the slower you will begin to move. That is so to allow hikers' time for their bodies to adjust to the change in air pressure and oxygen levels on high altitude.
What is the lowest temperature on the Kilimanjaro Summit?
The temperatures around and on the Kilimanjaro vary greatly depending on the time of the year, the time of the day as well as on the altitude. The areas close to the mountain experience an average temperature of 30⁰C. On the mountain, areas at an altitude of 3,000m or 9,842 feet may experience temperatures dropping to 0⁰C in the night and during the day these range from 5⁰C to 15⁰C. Moving higher to the summit, the nights are extremely cold with temperatures dropping below freezing point and it is normally very windy.
What is hypothermia?
This is a condition where the human body has an abnormally low temperature. The body becomes extremely cold, and this is cause by brief exposure to severe cold, or prolonged exposure to cold.
This condition surfaces when the temperature of the body organs greatly drops below 35⁰C (95⁰F). Unfortunately this temperature cannot be measured by the ordinary body thermometer.
Surprisingly the victim may not feel cold, however if they remain in a cold location while doing little to stay warm, they high stand the risk of becoming hypothermic. Other cold related sicknesses include pneumonia and bronchitis.
What are some of the dangerous signs to watch out for during the Kilimanjaro mountain climb?
Inability to complain about feeling cold, even while in extremely cold location.
Drowsiness / Tiredness
Extremely cold skin in normally covered parts of the body such as the armpits or the stomach
Slurred or jumbled speech
What is the highest altitude on Mountain Kilimanjaro?
The highest point on the mountain is the Uhuru peak, and this is found at an altitude of 5,895 meters.
What is Altitude Sickness?
Altitude sickness is also known as mountain sickness, and it can be defined as a group of common symptoms which are caused by walking or climbing very fast to an altitude or elevation that is higher. It happens when the body fails to adjust to lower levels of oxygen and reduced air-pressure.
What are the symptoms of Altitude Sickness?
There are a number of symptoms related to altitude sickness and these include: Headache, Faster Heart Beat, Nausea, Trouble Sleeping, Dizziness, Loss of Appetite, General Body Exhaustion, Shortness of Breath and mild swelling of fingers and ankles. These mild symptoms can easily wear off if you move to lower altitude in forty eight (48) hours. However we advise that you see immediate medical attention. Also before you hike, speak to your physician for preventative guidelines and medication.
How can Altitude Sickness be prevented?
Keep your body well hydrated by drinking at least 4 to 6 liters each day.
Do not smoke, take alcohol or consume any depressant drugs such as sleeping pills, barbiturates and tranquilizers.
In case you get any of the symptoms remain on lower altitude until of the symptoms clear off. Generally, people have different rates of acclimatization therefore refrain from ascending unless you have well acclimatized.
Eat a lot of Carbohydrates. Well, it is on very rare occasions that we are told to consume extra carbohydrates; and this is one of them. Once you are on a higher altitude, your body requires extra calories
Take the Climb Easy. As you climb up to the mountain summit, we highly recommend that you move at a slow comfortable pace. Don't engage in strenuous exercises or go too fast
Sleep at a Lower Altitude. It is very important that you sleep on lower altitude as Altitude Sickness normally worsens in the night when you are asleep.
Is the sun effect stronger higher on the mountain?
Definitely yes, therefore you have to take good precaution. The higher you move up the mountain, the more you are exposed to Ultra violet light, and more powerful sunrays which could result into sunburns on the skin. For that reason Kilimanjaro Trials recommend that you use a sun protection cream (20+) and once you reach above 3,000 meters altituse use a total block cream, once you get over 4,000 meters, dark sun-glasses having side panels are very useful as well.
How much money should be given to guides and porters as tip?
You are expected to tip the guides and porters at the end of your trek, and these tips are highly appreciated. The tips are offered as a sign of appreciation to those who helped you through the mountain. Although tipping may not be a customary thing to some people, it is very helpful to the guides, cooks and porters as it is a vital source of additional money which they use to support their families. Depending on the amount of luggage you have, you may take between two (2) to three (3) porters.
Normally, hikers do not get introduced to the porters on the first day because once you make it to the first camp or hut, you are tired. However on Day two, once you get to your camp or hut, there will be enough time for you to meet and greet the entire team.
It is very common that after the mountain climb a tip ceremony is held where the hikers will get a chance to tip the crew. This is normally done of the last meal in the mountain. The tip is put in an envelope and one of the people among the hikers hands it over to the Lead guide who shares it with the rest of the crew. It's much better to actually announce how much the tip is in front of the crew so that everyone get to know.
So the big question remains: how do I know how much to tip? Well one of the commonest method used by most climbers is offering ten percent (10%) of the cost of their trek. For instance in case your group trek costs US $2,500, you can all contribute and raise a tip of US $250. Always remember that tips are totally based on one's personal opinion. Gifts like footwear or warm clothing are similarly acceptable.