The Shira Route, commencing near Shira Ridge, is one of the less frequented trails on Mount Kilimanjaro and shares similarities with the Lemosho Route. Lemosho serves as an enhanced version of the original Shira Route, having been modified primarily due to the high altitude of Shira's starting point, situated at 3600 meters or 11811 feet. Despite the accessibility of this starting point by vehicle, such elevations are not conducive for trekkers unfamiliar with high-altitude hikes. Embarking on your Kilimanjaro journey from such a lofty height can lead to altitude sickness, symbolizing quite literally, a step in the wrong direction!
Quick facts about the Shira Route: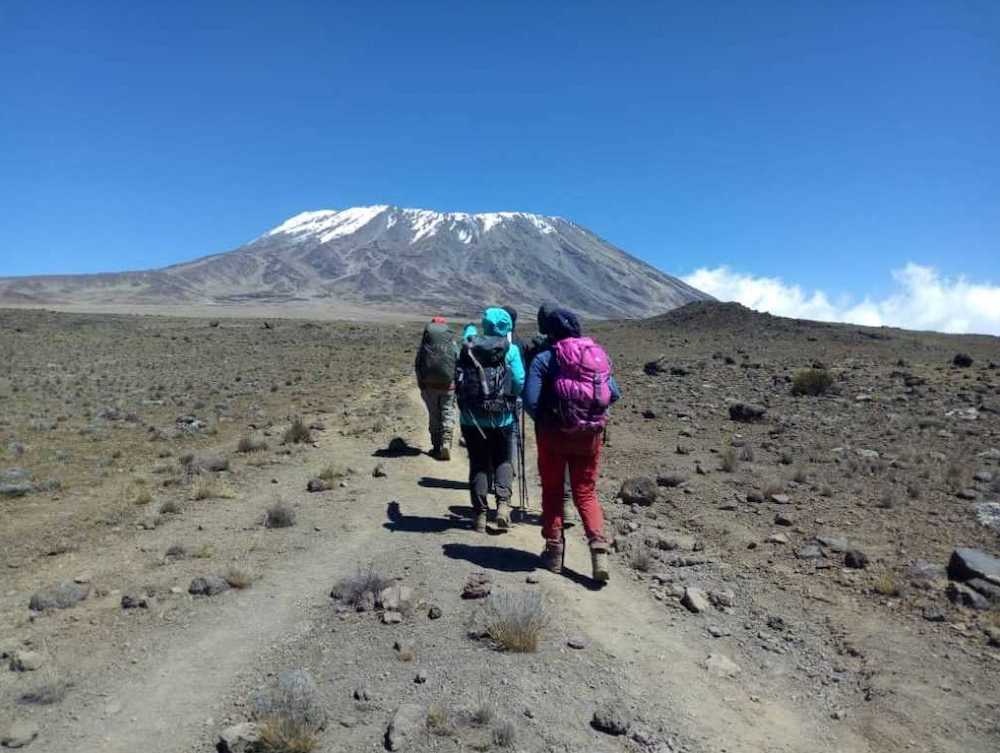 Difficulty: Medium
Distance: 56 km / 35 miles
Duration: 6-7 days
Success Rate: Medium
Location: The Shira Route is accessible by vehicle and initiates from Shira Ridge, located on the mountain's western side. The trail can be reached from Moshi.
Height: Climbers ascending via the Shira Route will aim for Kilimanjaro's summit at Uhuru Peak, which stands at an impressive altitude of 5,895 meters (19,341 feet).
Duration: The journey along the Shira Route typically spans 6-7 days. While extending the trip by an additional day incurs extra cost, it significantly enhances the likelihood of successfully reaching the summit.
Trail Conditions: The Shira Route presents a variety of terrains, initiating at a notably high elevation. Throughout the trek, hikers will traverse through grassy moorlands and encounter sections characterized by volcanic rock formations.
Hiking up Mount Kilimanjaro via the Shira Route
Embarking on the summit journey via the Shira Route involves an extensive drive from Moshi town or Arusha. The journey features passage through Kilimanjaro's lush rainforest vegetation zone towards the Shira Ridge, entering the mountain from its western aspect.
The principal trek commences at Shira Ridge, following a path across the expansive, table-like terrain of the Shira Plateau from west to east. The route then navigates beneath the Southern Ice Field of Mount Kilimanjaro, utilizing the Southern Circuit trail, before making the final ascent to the summit of Uhuru Peak from Barafu Camp.
The descent from the mountain adopts a divergent path through the Mweka Route, a widely favored direct route employed by the majority of trekkers.
The journey along the Shira Route can be accomplished in six, seven, or eight days. At Kilimanjaro Trails, we typically propose a 7-day itinerary for the Shira Route, but alternatives for a 6-day or 8-day itinerary are also available upon request.