The 6-Day Machame Route Overview
A Route for the Adventurous
The 6-day Machame Route, affectionately known as the "Whiskey Route," is one of the most popular paths to the summit of Mount Kilimanjaro, Africa's tallest peak. Unlike its longer 7-day variant, this 6-day journey is fast-paced, catering to experienced trekkers with a high level of fitness who are seeking adventure and a quicker ascent.
Machame Route – Exceptional Scenery and Vegetation Zones!
As you traverse the Machame Route, you will pass through a diverse range of vegetation zones, starting with lush rainforest, progressing to heath and moorlands, and eventually reaching alpine deserts and the glacial zone near the summit. The 6-day journey is a visual and botanical feast from start to finish, offering constantly changing landscapes and plant life.
6 Days Machame Route – Distance and Elevation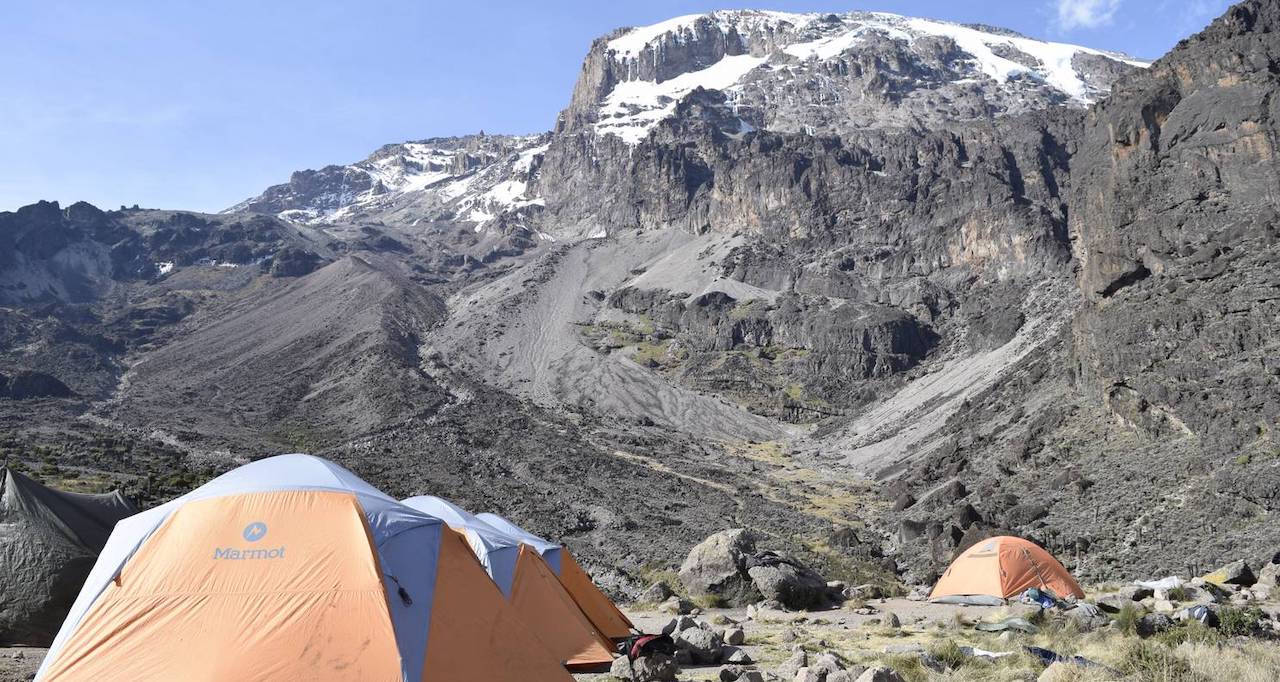 The total trekking distance for the 6-day Machame Route is approximately 62 km or 37 miles. This route takes climbers from Machame Gate, at an elevation of 1,640 meters, to Uhuru Peak, Kilimanjaro's highest point at 5,895 meters, and then descends to Mweka Gate. Each day involves a substantial elevation change, emphasizing the need for acclimatization.
6-Day Machame Route Acclimatization – Climb High, Sleep Low
The 'climb high, sleep low' technique is integral on this route. This strategy, involving daytime ascents followed by a descent to sleep at lower elevations, is a key factor contributing to the route's high summit success rates by allowing climbers to acclimatize more effectively to the altitude. This 6 days has less acclimatization time than the 7 Days Machame Route, that has a day for hiking high and sleeping low at the Karanga camp.
The Challenge of the Barranco Wall along Machame Route
One of the defining and most memorable features of the Machame Route is the ascent of the Barranco Wall. While it may look intimidating, this section is more of a scramble than a technical climb, and the sense of achievement and the breathtaking view from the top are unforgettable.
Crowds and Company, Machame is the most popular Mount Kilimanjaro trail
As one of Kilimanjaro's most popular routes, the Machame can become crowded, especially during peak seasons. For those who enjoy the camaraderie of fellow trekkers, this provides an opportunity for social interaction at the campsites along the trail.
When to Trek: The Best Time to Climb via Machame
July to September is the high season for a reason: the weather is stable and dry, making it the best time to climb Kilimanjaro via the Machame Route. However, Kilimanjaro is a year-round destination, and treks can be successfully undertaken at other times, with proper preparation and gear.
Health and Safety Considerations – Kilimanjaro Trails cares!
Before embarking on this challenging trek, ensuring you are healthy and prepared for the altitude is essential. Comprehensive medical checks and consultations with a healthcare professional about altitude sickness medications are strongly advised.
Is the 6-Day Machame Route for you?
For climbers seeking an unforgettable journey marked by stunning landscapes, a diverse range of vegetation zones, and a sense of accomplishment, the 6-day Machame Route stands as an excellent choice. This route offers both the challenges and rewards befitting an adventure of a lifetime.
Additional information
| | |
| --- | --- |
| Duration | 6 Days |
| Difficulty | Challenging |
| Acclimatization | No |
6-Day Tanzania safari; Detailed itinerary
Arusha/Moshi - Machame Gate to Machame Camp
You will be transferred from Moshi town to the gate of the Kilimanjaro National park a drive which will take about fifty (50) minutes. You will drive through Machame village found on the lower mountain slopes. Once at the park headquarters, you will be briefed and then begin the trail walking along a winding trail through the rain-forest to the ridge. Because the trail is muddy and very slippery, we recommend that you use trekking poles and gaiters. You will proceed to the Machame Camp where you will have your meal and spend the night
Route Plan: Machame Gate to Machame Camp
Elevation: 5,400 feet to 9,400 feet
Distance Covered: 11 kilometers
Hiking Time: 5 to 7 hours
Habitat Moved: Rain Forest.
Machame Camp, Hike to Shira Camp
After an early breakfast, you will leave the rainforest and ascend crossing through a small valley. The trail will lead you along a steep rocky edge that is covered with heather, and you will follow it all the way to the end of this ridge. You will then head westwards to a river gorge where the Shira campsite is located, and there you will rest, have your evening meal and take your night's rest.
Route Plan: Machame Camp to Shira Camp
Elevation: 9,400 feet to 12,500 feet
Distance Covered: 5 kilometers
Hiking Time: 4 to 6 hours
Habitat Moved: Moorland.
Hike from Shira Camp, through Lava Tower to Barranco Camp
Starting at the Shira Plateau you will ascend eastwards to the ridge, and go through the junction that heads to the Kibo peak. As you advance you will change directions and move south eastwards to the Lava Tower also known as 'Shark's Tooth' a very impressive rock formation. Not long after there, you will reach another junction, and this takes you to the Arrow Glacier which stands at an elevation of 16,000 feet. You will make the final descent of the day to an altitude of 13,000 feet where you will find the Barranco camp where you will have your evening meal spend the night. Although you complete this day at an almost similar elevation as you began, this day is very important to help acclimatize your body as the summit day draws nearer.
Route Plan: Shira Camp to Lava Tower to Barranco Camp
Elevation: 12,500 feet to 13,000 feet
Distance: 10 kilometer
Hiking Time: 6 to 8 hours
Habitat Moved: Semi Desert.
Barranco Camp, Hike through Karanga Camp upt to Barafu Camp
You will have an early breakfast at the Barranco camp and then proceed along a steep ridge on the Barranco wall until you make it to the campsite at Karanga Valley. From there, you will proceed to the junction that connects with the Mweka-Trail, before finally reaching the Barafu camp. This is where the southern circuit which offers various views of the mountain summit ends. You will camp here, rest, have your night meal and get an early sleep as you prepare to make it to the summit the following day. At this point you can actually see the Kibo Peak as well as the Mawenzi peak.
Route Plan: Barranco Camp to Karanga Camp to Barafu Camp
Elevation: 13,000 feet to 15,000 feet
Distance: 9 kilometers
Hiking Time: 8 to 10 hours
Habitat Moved: Alpine Desert.
(Summit Day) Barafu - Uhuru Peak - descend to Mweka Camp
You will begin this day's hike to the summit very early between midnight and 2:00am. You will hike between the Ratzel glacier and the Rebmann glacier, head North West and ascend across the thick gravel to Stella Point at an elevation of 18,600 feet found on the rim of the crater. This section of the trail is the most challenging both physically and mentally.
Once at Stella Point, you will have a brief rest and if the weather is good, you will be able to see the most breathtaking sunrise. From this point you will ascend for about an hour traversing the snow covered terrain all the way to the Uhuru peak. The Uhuru summit which stands at a height of 19,341 feet (5,895 meters) is the highest point on Mountain Kilimanjaro and it is considered as the Roof Top of Africa. Actually climbers who are faster will be able to see the sunrise at the Uhuru summit.
After spending some time at the summit resting and taking some photographs, you will begin the descent to the Mweka camp which will be the final destination for the day, making a stopover for lunch at the Barafu camp. During the descent, you will use your trekking poles and gaiters to traverse the loose gravel. The Mweka camp is located on the upper side of the forest, so expect some rainfall or mist in the late afternoon. You will have your evening meal before having your night's rest.
Route Plan: Barafu Camp to Uhuru Summit to Mweka Camp
Elevation: 15,300 feet to 19,345 feet (and descent to 10,000 feet)
Distance: 5 kilometers ascent (and 12 kilometers descent)
Hiking Time: 7 to 8 hours ascent (and 4 to 6 hours descent)
Habitat Moved: Arctic /rain-forest.
Descend Mweka Camp to Mweka Gate - Transfer back to Moshi
This is the final day of this 6 Days' hike on Mt. Kilimanjaro. After your breakfast at Mweka Camp, you will descend to the Mweka- Park Gate where you will be awarded your summit certificates. As you descend along the lower part of the forest trail towards the button of the mountain, you will realize that the terrain is very muddy as slippery. So once again, you will use your trekking poles together with the gaiters. You will continue to walk for approximately one hour until you make it to Mweka village.
Your driver will be waiting for you at Mweka village, and he will transfer you back to your hotel in Moshi town.
This will be the end of our 6 Day Machame Climb on Mount Kilimanjaro
Route Plan: Mweka Camp to Moshi Village
Elevation: 10,000 feet to 5,400 feet
Distance Moved: 10 kilometers
Hiking Time: 3 to 4 hours
Habitat Moved: Rain Forest.
06 Days Machame Route Kilimanjaro Prices
Price depends on number of persons. Please request for your best discounted price depending on how many persons are coming with you.
The Safari includes:
Full board accommodation
All meals as indicated in the itinerary
Transport (4X4 Safari vehicle with fuel)
Full time English speaking driver / guide
Drinking water in the car
Park entrance fees to Serengeti, Tarangire and Lake Manyara National Park, and the Ngorongoro
Safari excludes:
Airport transfers
Visas, passport fees and insurance
All activities listed as 'optional' in the itinerary
Personal items
Tips or gratitude gifts to the guides
Soft and alcoholic drinks